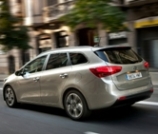 DAILY - UPDATED
KIA NEWS
&
SPY SHOTS
REVIEWS
SALES REPORTS

2012 Kia Cee'd Sporty Wagon Picture Gallery
The 82nd edition of Geneva Motor Show hosted a premiere of the all-new 2012 Kia cee'd Sporty Wagon and Kia cee'd 5-door hatchback.
Both compact cars were developed exclusively for the European market and boast superb design, along with highly-advanced safety and driving technology.
The all-new Kia cee'd model range is offered with four highly-efficient four-cylinder engines. There are two diesel and two petrol units which offer five power versions.
The diesel engines available in the cee'd SW are: 1,4L WGT which generates 90 horsepower and 1.6 VGT with either 110 or 128 horsepower.
The petrol engine range includes a 1,4L MPI unit with 100 horsepower and more potent 1,6L GDI unit generating 135 horsepower.
The good news about the cee'd engine line-up is that it is going to expand by at least one, if not two more units.
The South Korean carmaker announced shortly after the Geneva Motor Show it plans to introduce a highly-potent 1,6L turbo engine in the new cee'd.
The 1,6L GDI turbo-charged unit is expected to debut under the hood of the highly-anticipated 2013 Pro_cee'd GT, which is scheduled to make its official public premiere during the first half of 2013.
All engines offered in the 2012 Kia Cee'd Sporty Wagon are coupled with six speed manual transmission, however, consumers can also get an optional six-speed dual-clutch automatic -DCT gearbox.
The 2012 Kia Cee'd 5-door hatchback went on sale in Europe shortly after its inaugural Geneva premiere, while the 2012 Kia Cee'd SW has entered the Kia showrooms in the summer.
2012 Kia cee'd Sporty Wagon Pictures: