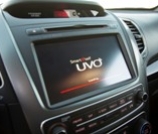 DAILY - UPDATED
KIA NEWS
&
SPY SHOTS
REVIEWS
SALES REPORTS

2012 brings new Kia UVO 2 system
Kia has done pretty well with the UVO infotainment system over the last year or so, but "pretty well" isn't good enough for the South Korean fastest growing carmaker.
So they unveiled an improved version, UVO 2, at the 2012 Consumer Electronics Show.
Built with Microsoft, UVO stands for "Your Voice" and offers advanced voice recognition and a touchscreen interface for interacting with the vehicle's infotainment and multimedia systems.
Kia's UVO responds to simple voice commands to take care of your hands-free phone calls, streamed music, back-up camera, and more. This way, you can focus on actually driving.
An elegant 4.3″ color touchscreen display is flanked by buttons that provide media control, phone and the new eServices Telematics suite. The eServices app is of particular interest with its 14 convenient services such as Roadside Assist, vehicle diagnostics, owner's guide, maintenance, and Park Assist.
As if all this weren't enough, eServices allows the driver to connect through a smartphone. For instance, users can send driving directions to the car via Google Maps on the phone. Or, UVO can read aloud your incoming text messages, and respond, without you having to touch your phone.
And for those of us who tend to forget where we parked, eServices will give us directions back to the car.
Once you've found the car and are heading home, you can relax with your favorite music just by saying the artist's name or song title. How is this possible?
UVO replaces the awkward multi-disc CD player with Digital Jukebox: a 700MB in-dash hard drive for storing and organizing music. To play a song, just say it. Easy as pie.
The enhanced UVO 2 is available on five 2012 Kia models.
It's certainly tempting to run out and get a new Kia, but make sure you're prepared; before you sign on the dotted line, get an quote from InsuranceQuotes.org so you can fully protect your new Kia ride.